Man with autism gets long-awaited tattoo and the photos go viral
A tattoo parlor in the Pacific Northwest took on a special request – and gained national attention. The shop is called Northwest Inkorporated in Bremerton, owned by Patrick Masga.
He heard about a 23-year-old man who'd been wanting a specific tattoo for years: Tommy Pickles, the iconic baby from Rugrats. But the man's parents said he was denied a tattoo at several shops over several months due to his autism.
Owner and artist Pat Masga tells the story best in his own words:
"This is Buzz. Buzz is 23yo and has been diagnosed with autism. His parents have been looking around since August for a tattoo shop that would do his tattoo. After more than a few shops turned them down, saying he didn't have the mind set to decide what he wants because of autism (he's been wanting Tommy for 5yrs), getting overpriced quotes and flat out told no they decided to check out my shop. Well guess what?! He sat like a rock, was positive all the way of what he wanted and finally got his dream tattoo! So be like Buzz and don't let them tell you "no" or "not possible", cause damn it, me and buzz?!, we did it! Pat Masga, Northwest Northwest Inkorporated"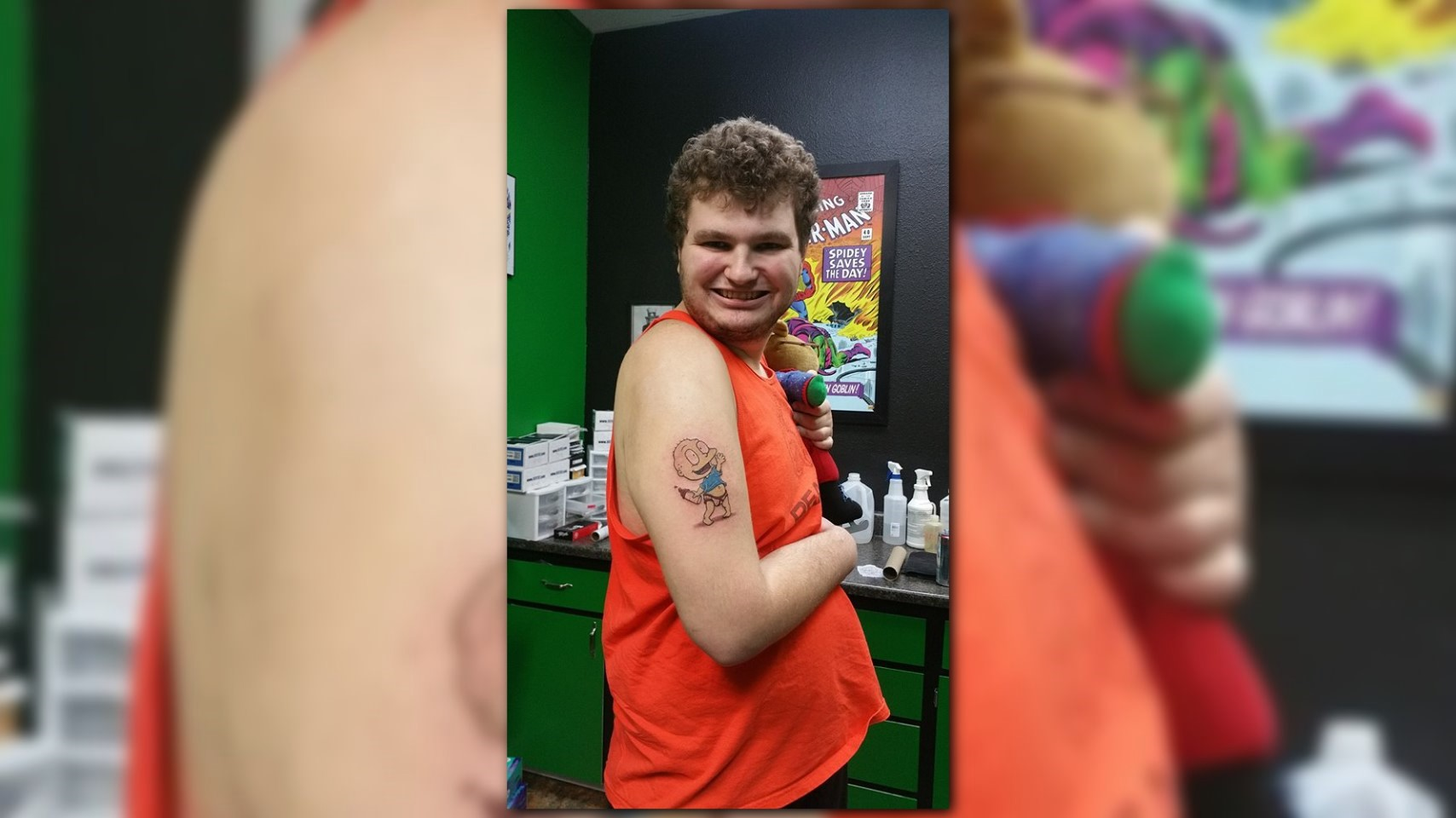 Buzz shows off his long-awaited tattoo done at Northwest Inkorporated in Bremerton, Washington.
After photos of the tattoo went viral on Facebook, Masga followed up with this comment:
"Thank you all for the kind words and support! When I was asked about doing the tattoo I didn't even meet Buzz. I was told about the situation they were going through in finding someone even willing to do the tattoo. And because of that reason, and the fact that he was so sure he wanted the tattoo, I told his parents the least I could do is try. No one should have to go through this regardless of their situation! No one! So we booked the appointment.. He came in and had the biggest smile on his face from the moment I met him and that's when I told myself that this tattoo is getting done NO MATTER WHAT adjustments I have to make. Whether it took me 5hrs or 5 sessions, I was willing to do it. He sat like a champ, didn't complain or quit, and we did it! In the end no amount of money or fame could equal to the feeling I had when I saw his face when he saw it finished!!! He loves it!! And I'm just happy I got to be a part of this memorable moment in his life. Thank you Buzz and you all again for the comments and shares! Keep it going! #forbuzz #autismawareness #beatautism"
In the spirit of Buzz, we'd love to see your inspiring tattoos. Share on the KING 5 Facebook page, or email webseattle@king5.com
You can reach Masga at Northwest Inkorporated on Facebook or Instagram
Copyright 2017 KING
(function() { var modules = [ 'error', 'page', 'grid', 'desktop-header', 'toolbar', 'weather-summary', 'navigation', 'video', 'throbber', 'utils', 'fitted-headline', 'forecast', 'article', 'continuous-scroll', 'sharing', 'gallery', 'radar-gallery', 'forecast', 'article-crosspromo', 'featured-videos', 'chapter-slider', 'pollen', 'three-day-outlook', 'current-weather', 'search-results', 'asset-fallback', 'tracking', 'chapter-progress', 'progress', 'countdown-clock', 'longform-explore', 'media-gallery', 'social-sharing', 'weather-alerts', 'weather-interactive-radar', 'closings', 'tealium', 'notification', 'cookie', 'sticky-sharing', 'live-indicator', 'sharethrough', 'taboola', 'elections', 'just-for-you', 'just-for-you-li' ]; require.config({ 'baseUrl': '/', 'deps': modules, 'bundles': { 'modules': modules }, 'paths': { 'jquery': [ 'https://ajax.googleapis.com/ajax/libs/jquery/3.1.1/jquery.min', 'scripts/jquery-3.1.1' ], 'jwplayer': 'content/player/jwplayer', 'modules': 'Views/dist/scripts/modules.min.js?version=1.0.263', 'facebook': 'https://connect.facebook.net/en_US/all', 'twitter': 'https://platform.twitter.com/widgets', 'slick': 'content/libs/slick/slick.min', 'dotdotdot': 'content/libs/dotdotdot/jquery.dotdotdot.min', 'jqueryui': 'Views/lib/jquery-ui/jquery-ui.min', 'comscore': 'content/libs/comscore/comscore.min', 'ad': 'views/modules/ad/ad','articles': 'views/modules/articles/articles' }, 'shim': { 'facebook': { 'exports': 'FB' }, 'twitter': { 'exports': 'twttr' }, 'jwplayer': ['jquery'], 'jqueryui': { 'deps': ['jquery'] }, 'slick': ['jquery'], 'dotdotdot': ['jquery'] } }); })();