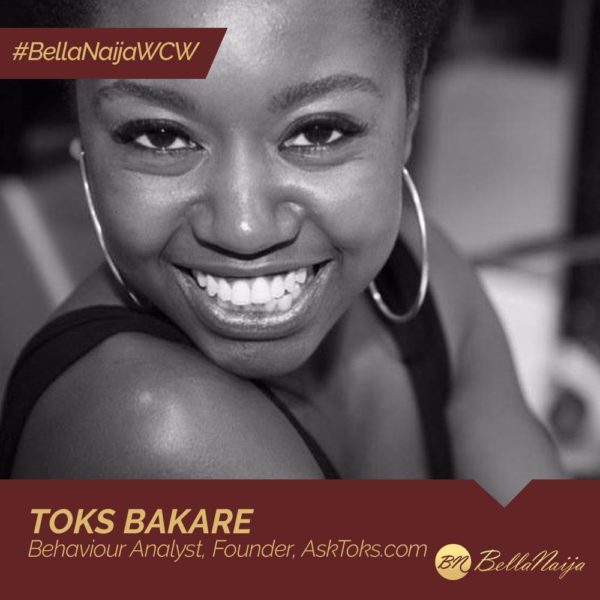 Every child deserves to be cared for, but what happens when parents or guardians do not know what to do when they have children with special needs? Especially in a country with less than a dozen experts on developmental neurological disorders?
Our #BellaNaijaWCW this week Toks Bakare – "an independent specialist consultant, providing Applied Behaviour Analysis (ABA) services to children with autism, other pervasive developmental disorders and related developmental disorders" – is helping parents, guardians and caregivers "know what to do," teaching them how to care for their children with special needs, as well as implementing effective behavioural interventions to treat children with neurological disorders.
With about a decade of experience in development psychology, Toks returned to Nigeria, and in 2014, founded AskToks.com with a mission to "establish sustainable services for people with autism in the developing world and in places where services are inadequate or insufficient."
The platform helps parents of children with autism or challenging behaviours to seek guidance, treatment and support anonymously.
When Toks returned to Nigeria, she wanted to research real life experiences and understand how children with special needs were diagnosed and cared for.
"The few centres and schools available for special needs kids delivered outdated and sometimes harmful programs. Children were misunderstood and quite often misdiagnosed, many were being neglected and attitudes towards these disorders were ignorant at best," Toks said she discovered, in an interview with ConnectNigeria.
She now devotes her time to working with hospitals in Nigeria to promote the campaign for autism awareness. She also trains special educators and therapists on how best to provide care for children with special needs.
Through her work in advocacy and education, Toks is addressing the lack of treatment options in under-serviced areas. She "believes in education that acknowledges multiple intelligence and the potential for all children, no matter their ability, to lead full and meaningful lives."
AskToks.com provides training programmes for parents, teachers, nannies, as well as traditional/religious/community leaders on how to manage special needs kids. It also, through its blog, provides information services and serves as a place of comfort and encouragement for parents and caregivers.
Toks has consulted for the UK Young Autism Project (UK YAP), a division of the UK Behaviour Analysis Research Group, working with a range of young children and teens.
Toks is a 2016 nominee in the Prize for Advocacy category of The Future Awards Africa (TFAA) 2016 and we celebrate her for taking it upon herself to not just raise awareness for autism and other neurological disorders, but also equip therapists and parents with relevant information to care for their children.

About BellaNaija.com
Living & Celebrating the African Dream!Catch all the Scoop on www.bellanaija.com
Follow usTwitter: @bellanaijaFacebook: @bellanaijaInstagram: @bellanaijaonline