April is World Autism Month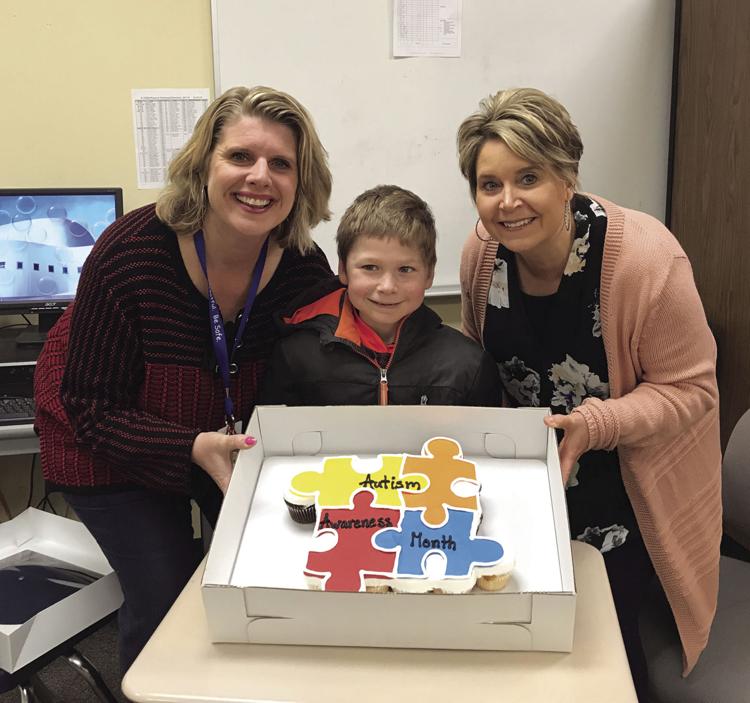 Courtesy photo
Talking about her son Nicklas Swenson and being an autism parent comes naturally for Richfield resident Sarah Swenson.
Swenson said her son was diagnosed at age two with sensory processing disorder.
"You don't get a lot of help from the state," Swenson said. "The state of Minnesota does not recognize sensory processing disorder as a disability and doesn't offer services to help those with it. When he was 5, he was diagnosed with autism. It was the most pleasant and difficult thing to hear."
Swenson said having a child diagnosed with autism is like having a death in the family, but it is not the worst thing to happen.
"I thought, 'This is what I asked for, but what do I do now?'" Swenson said. "The studies have changed in the last 10 years – I thought he would be stuck in special education department, but that's just not true."
Autism Spectrum Disorder can be characterized by difficulties in social interactions, communication challenges and repetitive behaviors, however symptoms vary widely, according to Autism Speaks, an organization dedicated to promoting solutions, education and research into autism. The Center for Disease Control suggests that one in 68 children are diagnosed with autism, one third of those with autism remain non-verbal, and one third have of those with autism have intellectual disabilities.
She laughs when she talks about moments that any parent would find difficult, but being a parent to a child who needs a little more patience than others, Sarah said you find your sense of humor and have to be willing to go with the moment.
"You have to have a different type of personality and be flexible," Swenson said. "You have to just roll with it. You can't let things bother you, and from a parent's perspective, [having a child with autism] teaches you a lot about how to be a better parent."
Swenson said part of what helps her be a good parent to Nicklas is the support system she's found in Richfield Public Schools.
"He came to RSTEM after being at a different school," Swenson said. "I just wanted people to understand he's not a number. He's not just another kid in the classroom. And his teachers have been the best thing ever."
For World Autism Month, which falls in April every year, Sarah wanted to honor Richfield's special education department. Just last week, she brought in a puzzle piece cake, the symbol for autism, to show them her appreciation. The puzzle piece logo, created in 1963 by Gerald Gasson, represents that autism is a complex disorder and the pieces of the puzzle represent the diversity of the disorder. Sarah said she felt that it symbolized that those with autism sometimes do not have all of the pieces at one time.
"Sometimes you may have one piece, and other days you have no pieces at all," Sarah said. "The teachers at RSTEM help bring those pieces together by teaching behavioral patterns."
Sarah said these teachers go above and beyond their job duties.
"You have a kid where transitions are difficult," Sarah said. "He threw a tantrum when I was trying to put him in the car. His teacher picked him up and put him in the car and buckled him in. Nicklas unbuckled himself while he was in the car. I sat there for a few minutes talking to his teacher, and we hear a crash. Nicklas had picked up a baseball bat and threw it through the back window of the van."
Sarah said his teacher, Maribeth Sagmoe, just went to pick up the bat and grabbed some duct tape from her classroom to start fixing the window.
"No one even said a word, and I find myself calling the insurance company," Sarah said. "It didn't even phase them. Nicklas is in the backseat, frozen, realizing what he's done. He didn't know his own strength, but the teachers just help clean up the glass and make sure he's all right."
Sarah said she feels it is a huge blessing to find people to support kids with autism and kids with general challenges.
"The principal does a really good job of including people," Sarah said. "This is not just the special education department, they make sure to include the students into general education as well."
Having a sense of humor helps
Special education teachers Kirstin Gulland and Maribeth Sagmoe have served the Richfield School District for more than 20 years.
Gulland said she started as a resource teacher to provide an extra level of service to students who may be struggling and then became a member of the special education department.
"We try to teach them a better level of behaviors and academics," Gulland said. "We have to give them a high level of service and have the kids most of the day. We teach them behavioral skills along with academics."
Gulland said part of the job is getting to know the students.
"It becomes a partnership to help the kids," Gulland said. "It's kind of finding out what they can do, what skill level they are at and building on small successes. It's kind of like looking for that Minnesota spring sprout."
Sagmoe said part of what makes the district special education department at RSTEM successful is knowing the kids well and having support from the administration.
"Nobody really says anything if we have a kid in full winter gear and only socks," Sagmoe said. "Gulland and I have the same sense of humor and are pretty flexible. There are a lot of times we just have to laugh and keep going. There is a saying, 365 days, 365 chances. No grudges. No judgment. We are really just here to help them where they are at."
Sagmoe said another part of the success of the special education department is having a smaller, cohesive group.
"We work with paraprofessionals who are kind of under our direction, but they work great with the kids and help them with every day tasks," Sagmoe said. "They may accompany them to the regular education class and help."
Paraprofessional Jan Nelson said she works in the autism room as an aide to the teachers and finds this work rewarding.
"They are really great kids, and some days I just can't help but smile," Nelson said.
Autism awareness
Sarah said early intervention is important.
"The sooner you can get diagnosed, the better success rate they will have," Sarah said. "People should not be ashamed of autism."
Sarah said autism diagnoses can fall on a spectrum.
"Everybody is different," Sarah said. "Someone could have Asperger's or deficiencies in their learning abilities. Sometimes kids have a social awkwardness about them. Sometimes they will act out differently. They are just a bit more challenging. You have to be a strong parent."
Sarah said everyday is not going to be the same.
"Sometimes they eat," Sarah said. "Sometimes they won't eat at all. Sometimes it can be overwhelming for them to be in a loud setting. There is no handbook for autism, but there are a lot of resources available to parents. There is help."
For those who want to learn more about autism, the symptoms or general information, visit autismspeaks.org.